If you're looking for a comprehensive best welding magnets review, you've come to the right place.
To weld at precise angles and vamp up your fabrication task, a magnetic welding positioner or welding magnet can be the right choice for you.
Using this welding tool is a simple way to position and clamp work-piece and pick up spatters, and fine metal shavings during welding or soldering.
We've shortlisted the 8 best magnets for welding. Importantly, we've examined every aspect of these products so that you can figure out if they'll meet your needs or not.
Now, let's dig into the details of these top 8 welding magnets to uncover what they can do and which one is perfect for you.
Keep reading to the last sentence.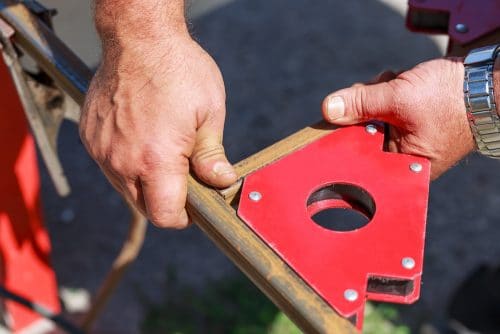 8 Best Welding Magnets- Quick Comparison Chart
In a hurry?
Here's a glimpse of the eight best magnetic welding positioners you can get. You'll find out more about these welding magnets in the detailed reviews and buying guide below.
Strong hand Tools Magnetic V-Pads MVDF44

(Kit includes 4 pcs)

Strong hand Tools MSA46-HD Adjust-O Magnet Square

Vector WELDING MAGNET

(Kit includes 6 pcs)

CMS MAGNETICS Welding Holder

(Kit includes 4 pcs)

Magswitch Mini Multi-Angle

(Special feature: On/off magnetic)

LISHUAI

W M 10 – S

(Special feature: Adjustable)

Strong Hand Tools MAV120

(Special feature: Adjustable, Angle Magnet)

Strong Hand Tools MST327

(Special feature: Corner Squares)
8 Best Welding Magnets Reviews
Now that you know a bit more about welding magnets and what features to look for in the best welding magnet, we can now move on to the list of reviews.
Below, you'll find the 8 top welding magnets that will help you get an excellent finish of your welding or soldering projects.
Hopefully, you'll find the right one for your needs on this list.
Specs
Maximum pull force: 18 lbs.
Holding angle: Not limited to 45 or 90-degree
Dimensions: 2 pieces x 2″ (XDV4) & 2 pieces x 2.2″ (XFV4)
Weight: 0.9 LB (0.4 kg)
Material: Metal
The Strong hand Tools brand has an excellent reputation when it comes to the most innovative, time-saving as well as money-saving workpiece holding tools. And this Adjustable Magnetic V-Pad is certainly no exception.
The set includes two large V-pads and two regular V-pads. These four pieces of magnetic V-pads are perfect for light-duty and tight spot applications in the construction field and shop.
Most importantly, each v-pad has 4 rare-earth magnets on both the pad face and the bottom. This aspect makes each pad perfect to hold and position square, flat and round parts in light duty uses.
The best aspect of these adjustable welding magnets is their pivoting pins. Due to this pivoting feature, these magnets are not limited to 45 or 90-degree angles.
So, they can hold parts at angles that regular 45 or 90- degree magnets can't. In the TIG welding process to weld small light pieces together, these V-pads are awesome.
Pros
Four pieces of magnetic V-pads
Good for light-duty applications
Not limited to 45 or 90-degree angles
Best for tight spot holding
Very useful and robust for the size
Time-saving set up
Cons
Too much heat will destroy the magnetism
For a more robust application, these are not perfect.
Bottom line
Overall, Strong hand Tools Adjustable Magnetic V-Pads are great in achieving the perfect completion of a small welding project. These are the welding magnets that every metal fabricator needs.
Specs
Maximum pull force: 90 LBS (40 kg)
Holding angle: 45 and 90-degree
Dimensions: 4-3/8 x 3-3/4 x 1-1/8″ (111 x 95 x 29 mm)
Weight: 1.5 LBS (0.7 kg)
Material: Metal
Next, we've another welding magnet from the renowned brand Strong hand Tools. And this time it's Adjust-O MSA46-HD Magnet Square.
This original magnet square is an excellent basic magnetic angle bracket. It's made with strong and durable rare earth magnets that offer pull force up to 90lbs. It is square and works well with even 1-inch dia or larger round tubes.
Also, it's ideal for round tubing, flat and angle stock. It allows you to hold the pieces of metal at 45 and 90-degree.
Most importantly, you can use either side of the magnets. This versatility ensures easy and fast operation.
One of the best aspects of this magnet square is its ON/OFF switch that makes this product stand off the competition.
Firstly, this feature ensures a fast and safe setup. Turn the magnet off during the setting process and turn it ON when you're ready to work.
Secondly, the on/off switch and fully enclosed construction also make cleaning of this magnet a breeze even with a lot of metal shavings.
Slag and bits of metal don't stick to it when the switch is OFF. You only need to turn off the switch to turn the magnetism off and wipe.
Pros
ON/OFF switch
Pretty strong and durable
Great for larger, heavier pieces
Fast & easy setup
Accurate angle
Easy to switch and use
Easy to clean
No battery needed
Cons
It doesn't have multiple holding strengths.
Bottom line
To summarize, MSA46-HD is a Handy strong little magnet. If you're looking for precision magnets, then this one could be the top choice for you.
#3 Vector 6 PC– Best Arrow Welding Magnet Set
Specs
Maximum pull force: 75, 50 and 25 pounds
Working angle: 45, 90 and 135 degree
Dimensions: 25 lb magnet is 3 inches, 50 lb magnet is 4 inches, 75 lb magnet is 5 inches
It's always a good idea to have multiple welding magnets before starting your welding or soldering project. Vector welding magnet set gives you an excellent combination of angles, strength, and sizes to complete your project without any hassle.
This set of 6 pieces of arrow shape magnets offers a wide range of angles for easy welding or soldering. You can use them to hold material at 45-, 90, and 135-degree angles.
Moreover, the six magnets feature multiple pulling forces. The set includes two 25-pound magnets, two 50-pound magnets, and two 75-pound magnets.
No matter, your workpiece is 25, 50, or 75 pounds weight, this magnet is always set ready with its arsenal.
Also, you can use them as a floater to keep steel plates separated. That means you can keep steel plates floating for a good welding position.
What's more, these magnets stick to any ferrous metal objects.
Pros
Good quality and rugged
Wide range of angles
Multiple pulling forces
Handy and useful
Reasonably priced
Cons
Bottom line
Above all, to make your welding and soldering projects hassle-free, this Vector welder soldering angle holder set is a handy option. These quality welding arrows are well-built and will last a long time.
Specs
Maximum pull force: 25 pounds
Holding angle: 45, 90 and 135 degree
Dimensions: 4.75″ x 3.25″ x 5/8″
Material: Ceramic
These 4 pieces of magnetic welding holders are great helpers for holding steel together at 45, 90, and 135 degrees while you weld.
It provides 25 pounds of holding strength which is good enough for light-duty work.
The nice feature of this magnet welding holder is- it can hold any ferrous metal object. That means you can keep free up your hands for work safely on your projects.
What's more, you can use this holder as a floater to separate steel plates. The magnetic holders are square and the sides are correctly lined up.
In addition, the red powder coating of each magnet protects them from rusting as well as scratching material you may be working with.
Pros
4 pieces of magnets to offer you a variety of options
Decent quality
Fast set up
Stable & powerful
Accurate holding
Cons
Not recommended for all types of welding
Bottom line
All in all, these 4 Pieces of small ceramic magnets are the ideal kit for welders and are very useful for a stable and fast setup. They're also perfect for the accurate holding of workpieces for all welding jobs including pipe installation, assembly, and soldering. Overall, they will offer you excellent value for the money.
#5 Magswitch Mini– Best Multi-Angle Welding Magnet
Specs
Maximum pull force:150 pounds (67 kg)
Holding angle: 45, 60, 90, and 120-degree
Dimensions: 2.3 x 1.7 x 2.1 inches
Material: Metal
On/off switch: YES
Next, we're going to review this dual-use, super-strong magnet from Magswitch. This multi-angle mini welding magnet offers several useful features that make it an excellent buy if you're looking for a reliable magnet holder.
Firstly, this one is a dual-use tool that means you can use it for workpiece holding as well as grounding.
Of course, it comes with a 1/4″-20 threaded hole to supply the lug and cable to facilitate ground connection.
Magswitch magnet holder is incredibly strong but lightweight and compact for those smaller jobs.
It offers up to 67 kg (150 pounds) hold force, which is outstanding for light-duty jobs.
Additionally, it offers several standard angles at 45, 60, 90, and 120 degrees on metal surfaces making it perfect for precise placement that accommodates pipe or flat.
What's more, it has an On and off switch that makes cleaning a breeze. Due to this feature, the magnet stays clean as it sheds all your metal shaving for years of hassle-free use.
Pros
Offers dual connections
Compact and lightweight
Super fast set-ups
Instant work-holding
Accurate angle placement
Easy to clean
Cons
No bolt for the ground wire
Bottom line
If you want to buy a compact welding ground magnet with versatile features, then this Magswitch mini strong magnet should be your choice.
#6 LISHUAI W M 10 – S– Best Adjustable Angle Welding Magnet
Specs
Maximum pull force: 48 LBS
Holding angle: 20 to 200 degree
Dimensions: 4.3 x 2.5 x 0. 6 inches
Weight: 8.8 ounces
Material: Neodymium Magnet
Type: Permanent
Shape: Block
If you're looking for an adjustable Magnetic Welding Holder, you shouldn't miss this LISHUAI W M 10 – S. It's an awesome general-purpose welding jig.
Surprisingly, this small magnet holder is great for holding ferrous metal for welding jobs. Undoubtedly, this feature makes it a perfect tool in the hardware processing and construction industry.
Both outside and inside of this welding holder are magnetic. Additionally, the clear scale lets you adjust the angles from 20 to 200 degrees by holding the workpiece from outside.
Of course, the package includes a hex wrench to help you to adjust the angles.
Finally, it is also available in medium size.
Pros
Easy to read the degrees
Adjustable angle
Both inside and outside are magnetic.
A hex wrench included
Cons
No corresponding pointer to indicate the angle
Bottom line
Overall, LISHUAI W M 10 is a handy little welding magnet in the line of the construction and hardware processing industry.
Specs
Maximum pull force: 90 LBS
Holding angle: between 30 ° to 275 °
Dimensions: 4.5 X 7.5 X 1.5 inches
Weight: 5.3 LB (2.4 kg)
Material: Metal
Adjust-O angle welding magnet MAV120 is a multi-functional work-holding tool from Strong Hand Tools.
It's a must-have for any fabricators shop. MAV120 is a time-saving magnetic welding positioner that you'll reach for time after time.
This heavy-duty variable angle magnet offers the best class of convenience and force to get the job done.
It combines the convenience of the patented on/off switches with the heavy-duty magnetic force for professional welding tasks.
This multi-angle magnet helps you to make easier and safer positionings. It also allows you to choose from 30 to 275-degree angles in 1-degree increments to meet your requirements.
The V-Groove surfaces securely hold square, round and flat workpieces.
The nice aspect of this model is its patented On/ Off switch that makes repositioning a breeze.
Pros
Easier and safer positioning
Holds round, square and flat work pieces
Built-in bubble vial level
V-shape on top and bottom for round tubes
1-degree reading for precision angle placement
Cons
Bottom line
Adjust O Angle welding magnet MAV120 is a powerful, reliable hand tool for clamping. For easy and safe positioning, this model is unbeatable. Overall, it's a high-quality welding magnet at a good price.
Specs
Maximum pull force: 30 lbs.
Holding angle: 120 , 90 & 60 degree
Dimensions: 3-1/4 x 3-3/4 x 5/8″ (83 x 95 x 16 mm)
Weight: 0.9 LB (0.4 kg)
Material: Metal
The MST327 Corner Squares is a time-saving, easy-to-use magnetic tool to use in the shop or field. It's useful for internal and external welding.
These Corner magnets work great on smaller projects. It comes in a package of two with angles at 60-Degree and 90-Degree. You can use them to create joints or corners of 90- or 60-degree when tack welding.
This magnetic square creates 90-degree corners by holding the workpieces from the outside. Thus it provides you with an unblocked area for inside tack welding.
In addition, you can use the outer edges of these magnetic pieces to set up the materials at 60-degree. You can also use the outer edges to hold stock at 120°.
Each piece is only 3.25 by 3.75 by 5/8 inches in size and weighs only 0.9-pound. Surprisingly, these little magnets can pull 30-pounds.
Conveniently, it features one side corner 'relief'. This cut-out on one side of the magnet provides clearance on the inside of the magnet for tall lips.
Pros
2 pieces of magnetic corner squares
Ideal for the light-duty holding of stock
Compact and low profile
Reasonable price
Cons
Small in sizes; not perfect for heavy-duty project
Bottom line
In essence, MST327 magnetic welding squares can be a great addition to the tool arsenal of anyone who needs fabrication magnets for construction-based welding applications.
Best Welding Magnets Buying Guide
While buying the best welding magnet, you need to consider some factors to make the best deal.
Pulling Force
It refers to the strength of the magnet. There is a limit to the holding force of a magnet. The more the pulling or holding force, the stronger the magnet is. That means it will hold the workpieces more strongly. Consider the magnet is strong enough to hold your workpiece together or not.
Number of Angles
Pay attention to the number of holding angles the welding magnet offers. If your selected magnet allows you to hold your workpiece at different angles, you'll get more versatility. All of the welding magnets we reviewed here offer you 2-5 angle options.
On/ Off switch
Having an on/off switch to the magnet is a useful feature. It'll give you a lot of convenience to work and clean the magnet.
Grounding Facility
Some magnets come with a grounding facility which is great. Having a hole in your magnet makes grounding a lot easier and risk-free.
Benefits of Using Best Welding Magnets
Welding magnets offer a lot of benefits in welding projects.
First of all, the primary objective of using a welding magnet is to hold on to welding sheets, pipes, or any other metal workpieces. It eliminates the need for someone else to do the same task. Moreover, it lets the welder leave both hands free to work on the project safely.
Secondly, the welding magnets holder helps to hold the welding pipes or sheets of metal at your desired angles.
Thirdly, welding magnets are ideal for fast setup and accurate holding at exact angles for all welding jobs.
Finally, these are also useful to pick up metal dust, fine metal shavings, and spatters which are common by-products in the welding process.
Overall, you need to know how to use welding magnets to get the most out of them.
Types of Welding Magnets
Two types of magnets are available:
Permanent magnets
Electromagnets
Permanent magnets:
This type of magnet contains charged particles that effectively produce their magnetic field to attract and stick to certain types of metals or other magnetic objects.
Certain metals that are attracted by magnets are mainly ferromagnetic materials such as iron, cobalt, nickel, and others. Magnets also attract the alloy that contains ferromagnetic materials. Steel that contains nickel or iron is this type of alloy.
Some permanent welding magnets are stronger than rare earth magnets. Though the name may suggest, no permanent magnet has real permanent magnetism. Various factors may weaken its magnetism. Some factors are age, heat, intense impact, and exposure to other magnetic fields.
Electromagnets:
This type of magnet doesn't produce its own magnetic field. Instead, to create magnetism, electricity is passed through the materials. While the material gets magnetized, it produces south and north poles like a permanent magnet.
In general, a battery is a common power source used in creating electromagnetism. One of the best aspects of this type of magnetism is you can turn off this magnetic property by disrupting the power source. Note that all electromagnets are on off magnets.
How to Clean Welding Magnets
It's tough to remove fine metal shavings and other debris from any welding magnet, especially from a strong welding magnet holder. However, this tip will help you to clean your arrow welding magnets instantly.
Arrow-type welding magnet is a great helper for holing workpieces together at a 90-degree angle while soldering or welding. But it's also cumbersome to clean an arrow magnet holder as it picks up fine metal shavings after grinding down your welds.
To make this cleaning process easier, you'll require an air compressor. Fire up it and with just a few shots of air, you'll be able to clean your welding magnet. However, before doing this, make sure you're outside of your workshop.
Also, you must wear eye protection as during this bit of metal are shot into the air at high pressure. So, you should use safety equipment as particulates can cause eye damage and can easily be inhaled.
Conclusion
Hope any of these best welding magnets will serve as a helping hand to concentrate and get your welding task quickly.
Take a look at our review here to find out the top-rated electrode holders in 2020.
FAQs (Frequently Asked Questions) About Welding Magnets
Here are some frequently asked questions about welder magnets.
Q. What is Welding Magnet?
Ans: Welding magnets (also known as welder's magnetic squares or magnetic angles) are the small pieces of magnets that a welder uses to hold and align the pieces of magnetic objects in position securely.
Q. How Do Welding Magnets Function?
Magnets feature charged particles that have the properties of either repelling or attracting other charged particles and certain types of metals or materials. Each magnet has a south and a north pole, so all magnets work on attraction and repulsion. North end repels north and south repels south.
Q. How Strong Are Welding Magnets?
Ans: Welding magnets are strong enough to hold pieces of metal during the welding process. Magswitch Mini Multi-Angle Welding Magnet can hold up to 150 pounds (67 kg) which is outstanding for light-duty welding and assembling.
Q. Which Type of Magnet is the Strongest?
Ans: Neodymium magnets (Nd) are the strongest magnet in the world. It consists of boron, iron, and an alloy of neodymium.
Q. What Are On/Off Magnets?
On/ Off magnet is a favorite option among welders. Generally, on/off magnets are electromagnets. In electromagnets, an external power source is applied to create a magnetic field in the material.
On-Off Welding Magnet features a switch that lets the user turn the magnetic field on or off. It allows the user to choose whether he/she wants the magnet to work or not at any given moment.
When the switch is "on", the object will act like a permanent magnet. While at the "off" position, the object acts like any other regular metal as all magnetism disappears.
Q. Can a magnet affect the welding?
Ans: Yes, as magnetic fields cause arc blow, they affect the welds. Welding near to magnet is challenging or sometimes impossible because it can make a strong field that disrupts the welding arc. If you use magnets to hold parts for tack-welding, you should keep the magnet a minimum 6-inch away from the spot you're welding.
Q. Can heat destroy the magnetic properties of the welding magnet?
Ans: Heat may cause demagnetization of a welding magnet. It usually decreases and even destroys the magnetism of a magnet.
I'm Ivan D. Mitchell. I'm the Chief Engineer, Manufacturing Engineering Tool and Launch, specialising in automotive equipment design and build which meets World Class Manufacturing methodology. I have 15 years of work experience as a Tooling Specialist on some of the leading automotive manufacturing companies. When I launched this site, I wanted to create a platform where you'll get everything about tools in one place. I also wanted to share my experience in the tool industry. I'll do my best to share the information you need to truly make your tool using experience better. I hope you find our guides, reviews, information HELPFUL. If you have any inquiries, I'm always here to help you.