This guide is all about different types of wrenches, their features, uses and much more.
No matter, you're an old pro or a complete newbie, it's important to know as much as possible about various kinds of wrenches.
Wenches are one of the most essential parts of a toolbox for any DIY or Professional. It's sometimes become quite impossible to remove screwed-on fasteners if you fail to use the perfect wrench for the job.
This list of the various kinds of wrenches will help you to learn about different wrenches, their features, and their uses.
Learn before adding one to your tool collection.
Wrench Definition
A wrench (also called a spanner) is one of the most common tools used to tighten and loosen nuts and bolts. Typically wrenches are designed by following the laws of physics. By applying torque, it provides a grip and mechanical advantage to turn fasteners. Professionals already know, but we said it for newbies.
Wenches come in various styles. Some are very common to accomplish any home improvement job while some are specialized to handle the specific task. They differ from each other regarding shape, angles, and offsets. Usually, wrenches feature Chromium-vanadium alloy construction. The chrome-plated finish is easy to clean and resist corrosion.
10 Types of Wrenches-Their Features and Uses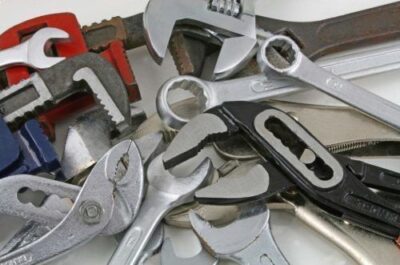 It's not so easy figuring out what kind of wrench you need as there are so many different variations.
Need a little help?
The following are the 10 different kinds of wrenches that can be a fantastic addition to any toolbox.
Keep reading!
The Quick List of 10 Basic Wrenches
Open-End
Box-End
Combination
Adjustable
Allen
Impact
Socket
Ratchet
Torque
Lug
#1 Open-End Wrench
USA name- an open-end wrench
British name– Open-ended Spanner
Open end wrenches are probably the most common type of wrench found in toolboxes. It has two U-shaped (Crescent moon shaped) fixed ends. Usually, one end is slightly bigger than the other end.
Features and Uses
Quick and pretty easy to use for hard-to-access nut and bolts
Perfect to attach either horizontally or vertically on the target fitting
Ideal for both right- and left-handed people
Space saving for the toolbox
Available in standard and metric sizes
Flex-head and jointed models to work at different angles
#2 Box-End Wrench
USA name- an open-end wrench
British name- Open-ended Spanner
These wrenches are dual-sided with either the same size or different sizes. Some box-end wrenches may have the loops slightly lower or higher than the handle. The main difference from the open- wrenches is box-ended wrench completely surrounds the nut you're after.
Features and Uses
Have enclosed head at both ends to provide extra leverage
Designed to fit either square or hexagonal bolts
Perfect for grabbing onto nuts that are quite small and need a slow but hard- grafting to come loose
Works well for the nuts that feature unusual shape (for example, square shape nuts on internal fittings).
#3 Combination Wrench
USA name– Combination wrench
British name– combination spanner/open-ring spanner
For multiple uses, this type is a popular option for fixed wrenches. In fact, they offer the convenience of two tools in one.
Features and Uses
Have a box-type (closed loop) on one end and an open-type (U-shaped)on the other end
Both ends usually fit the same size of nuts and bolts.
Closed-ends are perfect for loosening a super stubborn fastener while the open end works well to unscrew it quickly
Available in standard and Metric sizes
#4 Adjustable Wrench
USA name- Adjustable wrench/ adjustable end wrench/ Crescent wrench
British name- adjustable spanner/ shifting spanner/ shifter wrench
These are one type of open-ended wrench. It features an adjustable lower jaw that you can change to fit specific size nuts, bolts, and fasteners. One disadvantage of this type of wrench is these are difficult to use in confined or remote spaces. Most of them fit fasteners from ½-inch to 15/16-inch.
Features and Uses
Designed to handle a lot of different DIY tasks
Handy and versatile tool for any homeowner
Can accommodate different sizes of nuts, bolts, and pipes
Works with both metric and standard fasteners
Available in locking and non-locking models
#5 Allen Key
USA name- Allen wrench/ Allen key/ hex key wrench/ L wrench
British name- Allen key
Hex keys are super common wrenches. It's handy in tight corners. This type of key features head on the short arm that has hexagonal recesses in it. It grips the fastener as opposed to the outside.
Features and Uses
Made up of either metal or plastic
Perfect to loosen or tighten hex-head bolts or screws
Comes in either a T- or an L-shaped extra limb functioning as a handle
Allen key with T-handle offers more leverage.
Available in different sizes based on the fastener's size
#6 Impact Wrench
USA name– impact driver/ impact wrench
British name- impact driver /pneumatic spanner/ windy spanner/ rattle gun / Windy gun
Impact wrench provides a specific amount of torque for fastening or unfastening jobs. It's a great choice to tackle multiple nuts. If your project needs more speed and ease of use than precision, it's a perfect tool. However, if your project requires precision, an impact wrench won't be a great choice to do the job.
Features and Uses
Powered by compressed air but can also be electric. Electrical impact wrenches are usually rechargeable battery-power, so these are cordless.
Have a wide range of use from construction to automotive projects
Need little effort for fastening and unfastening process
Great for loosening stubborn, difficult-to-remove nuts and bolts.
Available in all sizes from 1/4″ to 3 1/2″
#7 Socket Wrench
USA name- socket wrench
British name– socket wrench/ socket spanner
The socket wrench is a great addition to any toolbox. It comes with a hollow cylinder/ socket attached to one end of the handle. The sockets are detachable which enable the tool to be used for different sizes of objects. It follows a ratcheting mechanism to quickly tighten or loosen nuts or bolts. The user doesn't need to remove the wrench off the fastener.
Socket wrenched are highly adaptable. Various sizes and types of sockets are easily available. Whatever be the nut or bolt shape, there is likely a socket that fits it well. You can pop it on and off and continue your work.
Features and Uses
Less effort is needed to move the fasteners
Perfect to use in tight spaces
Easy and quick to use
Can be used with various drive tools
Available with ¼-inch, 3/8- inch, ½-inch, and 1- inch drives
Some models come with automatically adjustable heads. So, it'll make your fastening job quicker as you don't need to waste your time finding the right drive for the fastener.
#8 Ratchet Wrench
USA name- ratchet wrench
British name- ratchet handle/ ratcheting Wrenches
This type of wrench is almost similar to a socket wrench. However, the ratchet wrench features at least one end which is attached to a gear. When turned in one direction it provides a 360-degree grip and locks when it's turned in the opposite direction. There is no need to remove the wrench itself.
Features and Uses
Perfect to tight or loosen nuts and bolts easily in a tight space

Works well to loosen stubborn or rusted nuts or bolts quickly without repeatedly losing your grip.

Available in standard and metric sizes

Can accommodate at many angles

Some models feature pivoting ratchet ends.
#9 Torque Wrench
USA name- torque wrench
British name- torque wrench
This type of wrench delivers a specific amount of torque for the fastening process. This mechanism helps to avoid over-tightening. So, it's a handy tool for automotive work, farming equipment or any instance where usually torque specification is set by the manufacturer.
Features and Uses
Provides plenty of power to tighten or loosen certain nuts or bolts on SUVs, trucks or cars
Perfect to use where the precise level of torque is required
Available both in manual and digital models
#10 Lug Wrench
USA name-drum key/ lug wrench /drum wrench
British name– drum key
This wrench (also called wheel brace) features a cross-shaped design that has four sockets of various sizes in four directions.
Features and Uses
Specially designed to tighten or loosen the nuts on wheels of automobiles
Ideal for the fastening/ unfastening job of lug nuts on cars while changing the tires
Handy and easy to use as the two handles make the wrench easier to tighten or loosen the nuts or bolts
Types of Specialty Wrenches
These 10 wrenches types will help to meet the need in your day-to-day life for different purposes. However, there are many other special wrenches that you can use.
Some speciality wrenches are:
Cone wrench
Head nut wrench
Oil-filter wrench
Plumber wrench
Spud wrench
Strap wrench
Tap wrench
Tuning wrench
Channel lock wrench
Which Are The Strongest Types of Wrenches?
Combination wrench, socket wrench or adjustable wrench- which one is strongest?
This interesting Hydraulic Press Test (40-ton press) will help you to know. (Don't try this at home!)
Some Common Terms Used to Classify Different Wrenches
Before going ahead, we would like to introduce you to some common terms that are used to classify wrenches into subgroups. Knowing all these terms will help you to get a better idea about wrenches.
Key
The term "key" most often appears as an old fashion tool with no teeth or as T-shaped socket which may come with a male and a female tip. Some examples of the key wrench are window cranks, bottle opener, and Allen wrench.
Socket
The term "socket wrench" refers to a single handle attached to a hollow cylinder. In general, the socket is connected to the handle over the head. You can turn the head either horizontally or vertically based on handle's orientation.
Spanner
Spanners are wrenches that feature pins or hooks instead of the normal end. In general, this term is used in British English to describe wrenches. However, it has some uses in US English to indicate a subgroup of the wrench.
Is There Any Standard Size For Wrenches?
Wrench sizes are not designated based on their own sizes. It's measured based on the dimensions of the screw thread that the wrench is being used for. The modern practice uses a size designation by dimension based on across-flats distance, measured in the inch or metric units.
There are two common standards or measuring systems for different types of wrenches that are used to match the size of a nut or the head of a bolt.
Metric:
The standard metric sizes of nuts and bolts are determined in mm (millimeters) across the flats of the fastener
It is used in most of Asia, Japan, and all European countries
SAE:
Stands for "Society of Automotive Engineers"
The sizes of sockets and wrenches made to this standard feature increments of 1/16th of 1-inch
Mostly used in American countries
There are some great wrench sizes charts available online. The color coding on some wrenches helps the user to identify metrics or standards quickly.
Remember!
Wrenches are available in an individual piece to buy. But it can be economical to purchase full wrench sets of different wrenches types. Moreover, the best wrench set containing 16 to 18 pieces will cover nut and bolt sizes you're likely to encounter during any automotive or DIY project.
Summing Up
Choosing the right type of wrench for your job involves more than just matching the size. Using the proper wrench will make your project easier and hassle-free.
Hope, after reading our article, you're now well-informed about the different types of wrenches, their features and speciality, and their purpose of uses.
Pick the best wrenches to safely and efficiently complete your task!
Thanks for reading!