Can you cut aluminum with a plasma cutter?
The answer is- Yes, you can. A plasma cutter can cut aluminum.
In fact, a plasma cutting machine can cut any conductive metal such as stainless steel, mild steel, aluminum, etc.
There is a myth that aluminum can't withstand the plasma cutter flame. With the right selection of plasma cutter gas and proper setup, you can cut aluminum with nice edges without any mess.
A mix of argon-Hydrogen-Nitrogen mi is perfect for cutting aluminum with a plasma cutter. Using air and a plasma cutting system with high cutting speed will make the process cost-effective.
For Al-Li alloys use a dry table with a dust collector and a wet table with an aerator for most alloys.
When not to use a plasma cutter for aluminum
You can cut most of the regular aluminum plates and sheets with a plasma cutter. However, there are few exceptions.
First, never cut anodized aluminum. Because the finish of anodized aluminum is vulnerable to temperatures and the heat of plasma arc may damage the surface.
Second, avoid cutting diamond plates or aluminum floor plates with plasma. Because the raised sections of the plate may make it challenging to control the arc-voltage height control of the plasma cutter. It results in poor cut quality.
Can You Cut Aluminum With A Plasma Cutter?- Related FAQs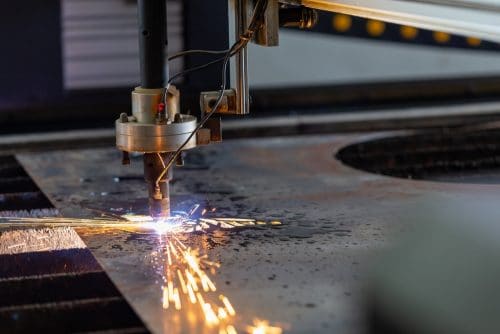 1. What are the plasma cutter settings for aluminum?
It may vary depending on the plasma cutter system. I recommend reading the manual to learn the accurate settings.
2. Can a laser cutter cut aluminum?
Yes, you can cut aluminum with a laser cutter. But when it comes to thickness, the laser can only cut metals up to 25mm thick.
Aluminum cutting with plasma cutters offers several advantages over laser. Although laser cutting is precise, the cutting quality produced by plasma cutter is sufficient for most industries and applications.
Plasma cutting of aluminum sheet is more cost-effective than laser considering the cost of cutting per foot.
3. What is plasma cutting aluminum hazard?
One of the potential hazards related to working with aluminum is water table hazards. This risk exists only when the water table uses a submerged chamber or tank.
Aluminum when cut on a water table may combine with water and produces bubbles of hydrogen gas. The bubbles may collect under the submerged plate of the water table which may be subsequently ignited by plasma arc and explode. But the risk is less with small parts that are only submerged for short time.
I recommend consulting with the table manufacturer before planning to cut aluminum on your water table.
Never cut aluminum-lithium alloys with a plasma cutter on the water table.
4. How thick of aluminum can a plasma cutter cut?
You can cut aluminum of a wide range of thicknesses with a plasma cutter. A modern plasma cutting machine can cut through gauge thicknesses up to 38mm (pierce) and 50mm with an edge start.
A Hypertherm HPR800XD plasma cutter can pierce up to 75mm aluminum plate. If offers severance cut through aluminum up to 160mm.
5. What is the right gas for plasma cutting aluminum?
For an air plasma cutter, the air is the most cost-effective option. Unfortunately, it produces rough edges coated with aluminum oxide.
If you have a dual gas or multiple-gas plasma cutting system, my recommendations for best cut quality are:
Argon-Hydrogen mix for cutting thick aluminum (greater than 12mm)
Nitrogen with carbon dioxide gas shield for cutting thinner aluminum (less than 12mm)
6. Which table is best for plasma cutting aluminum- dry cutting table or wet plasma cutting table?
If quality is your focus, I recommend using a dry-cutting table. But it may produce a lot of dust that can be a hassle to clean after the process is done. You have to use an extra dust removal system which may add a considerable amount of cost. Moreover, the operation is also noisy.
A wet plasma cutting table is cost-effective than a dry cutting table. But there is a risk of explosion if a large area of aluminum plate or sheet is submerged for a long time.
7. How to safely use a wet table during cutting aluminum
Some water tables come with special water level control systems. They let you raise and lower the water levels as required. Before starting cutting, you can dissipate the hydrogen bubbles by raising or lower the level of water.
Never leave your aluminum workpiece on the wet table for hours.
8. Can I Cut Aluminum-Lithium alloy with a plasma cutter on a wet table?
No. Cutting aluminum-lithium alloy on a water table can be dangerous. Certain particles from the molten alloy may be too dangerous to be allowed on wet in your workplace.
The safe way is to use a dry-cutting table. You should also avoid using a water-injected torch.
9. What to consider when buying the best plasma cutter for aluminum?
When buying a plasma cutting machine for cutting aluminum and to achieve a good-quality finish, consider the following factors:
First, the thickness of aluminum you plan to cut.
Second, the width of the aluminum sheet.
Third, the torch speed along with the amperage you use base on the thickness of the aluminum sheet.
Fourth, when buying the best plasma cutter for aluminum, consider the cutting speed requirements (IPM- inches per minute) for the thickness of soft metal.
Lastly, consider the duty cycle of your selected plasma cutter.
Best Plasma Cutter for Aluminum