Do you know-
Who invented the ratchet wrench?
Where does it come from?
How has it evolved throughout history?
Socket wrenches have been used for centuries. But the modern ones have a ratcheting mechanism with it.
Nowadays, the ratchet wrench is an essential part of every mechanic's toolbox. This is because this hand tool gives us significant advantages in turning different types of nuts and bolts. The significant advantage is the speed of wrenching, which is much faster than a conventional wrench.
The invention of the ratcheting wrench had played a significant role in the tooling of America's industrial revolution.
Ratchet is a compact, easy-to-use tool that allows us to achieve a lot of leverage for handling fasteners in the hard-to-reach spot with minimal effort. Can you imagine how much harder would your job be without this tool?
A wide range of professionals, amateurs and DIYers use them in different projects.
I've gathered exciting information and amusing facts about this hand tool. If you're interested to learn all about these facts, continue reading this post.
Who Invented the Ratchet Wrench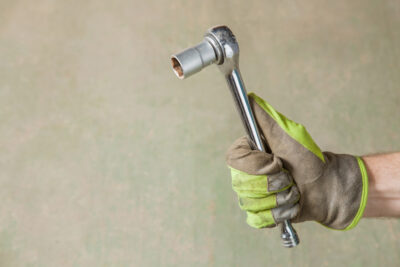 Read the following section to learn the inventor and brief history of this hand tool.
JJ Richardson' 1863 Ratcheting Socket Wrench
In 1863, JJ Richardson, an American inventor, patented the first ratcheting socket wrench with interchangeable sockets. He resided at Woodstock, Vermont, USA.
His tool was versatile but straightforward. His invented wrench allowed to change the socket. So, it could accommodate different types of sockets for different sizes.
On June 18, 1863, his design was patented through Scientific American. It showed two different sizes of the interchangeable square socket. The first illustration of his wrench appears on page 248 of the April 16, 1864 issue of Scientific American.
Joseph Reams' 1907 Reversible Ratchet Wrench
Joseph M. Reams have brought certain new and useful improvements to this tool. He received patented on July 14, 1907 (patent no. 893,097). (Patent Images)
Robert Owen' 1913 Double Acting Ratchet Wrench
Robert Owen, Jr. (1881 – 1956) invented the double-acting ratchet. Arguably, he's brought the most stunning advancement in wrench technology.
On September 9, 1913, he received a patent for this tool (U.S. Patent number 1,072,980). It is also listed in the World Almanac and Book of Facts under inventions. Patent images
Robert Owen, JR. was a citizen of the United States. He lived at Shawnee, in the county of Perry and state of Ohio. He was a cutting machine operator in a coal mine near his farm home in Perry County, Ohio.
Owen's design relates to improvements in this device, and more particularly to that type of wrenches, which features a rotatable head with ratchet teeth formed thereon and a lever with a pawl for engagement with ratchet teeth to rotate the head.
Owen's patented double-acting ratchet has two handles. It was designed to replace or remove nut or bolt with both forward and backward direction of one handle while the other handle remained motionless by another hand. It also features nut receiving sockets mounted in the handle.
Peter Roberts' 1964 Quick-Release Ratchet Wrench
Peter Roberts (1945—) has made a significant advance in socket wrenches. He invented a ratchet with a quick-release feature in 1964 when he was 18 years old.
In 1965, he obtained a patent for his stunning inventions. His patent no. was U.S. 3,208,318. Interestingly, his printed patent consisted of one sheet of drawings. There was only one page of claims and specifications.
Initially, Roberts sold his patent to his employer, Sears, for $10,000.
Although there are not so many stories involved with the ratchet, the development in ratchet design has continued even until today. Nowadays, different types of wrenches are available- an adjustable wrench, an open-end wrench, and much more. But, Wera's Zyklop Ratchet is probably the best-designed ratchet. It is the world's fastest ratchet.
During the 20th century, powered wrenches that are used with sockets became available. Nowadays, ratchets are available in a wide range of designs, shapes, and sizes. The quality of modern style wrenches is not comparable to their older versions.
The use of ratchets and sockets together has now become so common that many people no longer consider as a socket wrench. Instead, they refer to it as a nut driver.
These tools are either powered by compressed air or electricity to provide the maximum comfort level for operators when working. Some powered wrenches act as impact wrenches for use with impact sockets.
Hydraulic ratchets offer very high torque. They are used in heavy industry.
More About this Amazing Tool
The following facts are also nice to learn.
Who invented wrench?
The world's first African American heavyweight champion patented a wrench (U.S.patent#1,413,121) on April 18, 1922.
Did Jack Johnson, former heavyweight champion, invent the monkey wrench?
No, Jack Johnson did not invent what we now call a "monkey wrench". In the 1920s, he only patented a type of wrench.
Who invented the monkey wrench?
Charles Monkey invented the monkey wrench around 1858.
Who invented ratchetless wrench?
The idea for a ratchetless or non-ratcheting wrench came about because of an invention by NASA/Goddard Space Flight Center (GSFC) engineer John Varnish.
Who invented pipe wrench?
Daniel C. Stillson, a steamboat fireman, invented the pipe wrench. So, it is also called the Stillson pipe wrench. A patent was granted to him on September 13, 1870.
Serrated blacksmith tongs had been used for screwing pipes together. Stillson suggested Walworth Manufacture, a heating and piping firm, a design for a wrench that could be used for that purpose.
James Walworth, the owner of Walworth Manufacture, told Stillson to make proto-type. Stillson's prototype successfully twisted the pipe. His design was then patented on September 13, 1870, and Walworth manufactured the wrench. Stillson received about $80,000 in royalties during his lifetime.
Which is the best cordless wrench for automotive repair job?
KIMO 3302L is one of the best extended-reach electric ratchet wrenches for automotive and aviation uses.
What are the common methods or driving socket wrenches?
Breaker bars, torque multipliers, hydraulic torque wrenches, pneumatic impact wrenches are some of the common methods of a driving socket wrench.
What is a non-ratcheting socket wrench?
It is a special use socket wrench designed for tightening or loosening lug nuts on truck wheels or automobiles. On this type of wrench, the socket is permanently attached to the end of an X-shaped or L-shaped bar.
Conclusion
This article was a brief history of a ratchet. I hope you've found its information interesting enough and enjoyed reading it.
From the 15th to the 21st century, ratcheting wrenches have come on a long and fantastic journey. But there was always room for improvement.
With modern technology, who knows what happens ten years from today?
If you like to add more, don't be hesitated to leave a comment!